The differences between the dotted and straight lines is what a 2013 US government report calls "random errors". In reality it is a non-linearity error, a systematic error that is repeated cyclically every centimeter. By labeling it a "random" error the accuracy estimate of the instrument was downgraded by more than on order of magnitude, which was then used to justify not to use it to monitor sediment spill at the dredging of the Port of Miami—an operation that killed some 200 acres of coral reef due to siltation that was not monitored in real time.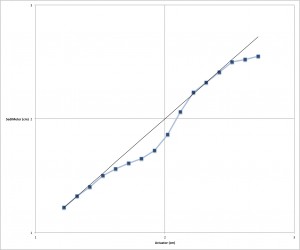 Of course, this non-linearity error does not in any way prevent the instrument from measuring siltation with sub-mm accuracy, since the error is proportional to the distance measured: The shorter the distance, the smaller the error. The report also, for good measure, doubled the error in the conclusions, without any valid justification whatsoever (they claimed that difference data were level data and therefore doubled the error to account for difference data—which it already was from the start).
Furthermore, what matters in siltation monitoring is actually not the accuracy in determining the bottom level, but rather if it's possible to detect siltation. This self-evident truth is easy to forget. The SediMeter measures the turbidity at 37 different levels. It's like a scanner that delivers a vertical profile through the bottom, like a "photo" with elevation up and time to the right. It's much more information than just a bottom level, all of which makes the SediMeter a tremendous asset for monitoring siltation in real time.
If you have something to hide don't deploy a SediMeter, since it was designed specifically for siltation monitoring with utmost transparency.